I'm always searching the internet for fun and creative ways to target social skills with the kids I work with. When I came across this video posted on Facebook, I knew right away it would be perfect.  It is a video of a very energetic and candid child and his views on the things we should all say more often.  It amazes me how kids can make things so simple.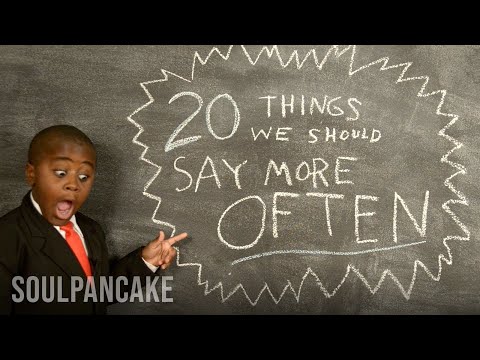 There are a lot of valuable social skills "lessons" that he talks about in the video that cover a range of difficulties such as not knowing what to say to friends to having difficulty taking others' perspectives. Here are some of my favourites:
"Please and thank you"
These words go a long way with everyone in your life, there is a reason we were taught them! Many people don't use these words much anymore.
"I have BBQ sauce on my shirt too"
This is a way to remind us not to criticize others because nobody is perfect. We're encouraged to be aware of ourselves as well as others feelings before saying something. In other words, think before you speak!
"I don't know"
Sometimes we really don't know, and that's okay. Every day is a learning opportunity. Knowing when to admit we don't know something and to ask for help is an important skill to learn.
"You're so awesome I named my dog after you"
I laughed out loud when listening to this one! The message here is to give compliments.  It's nice to tell people that they are great – everyone needs a boost now and then!
"My sports team isn't always the best sports team"
In my opinion this is the nice way of saying "don't be conceited". You and/or your team are not going to win every game, no one is perfect and that is okay! Realizing we aren't always the best at everything is important, because that is real life and in real life we can't always be the best.
"I disagree with you, but still like you as a person"
This is an important one for everyone, especially kids – to know that you can still like a person even if you disagree with them. It is important to separate feelings from opinions/choices. We can talk about our differences, thoughts, and choices with others in a happy, neutral way.
"Say something nice! Anything. If you can't think of something nice to say, you aren't thinking hard enough"
This one is the most important, in my opinion. Some of the kids I work with choose to say nothing, but this can often just avoidance. If you think hard enough, there is always something nice to say. This is so important for social interaction with kids because it helps build strong relationships with others. It could be as simple as saying, "I like the hat you're wearing today".
"Let's dance"
Finally, my absolute favorite was this 'bonus' lesson – sometimes dancing around crazy is all you need to do to make yourself and others feel happy! This is just a reminder to make an effort to make the people around you happy and comfortable.
How to use this video at home with your children
The reason this video is so great is because it's not a "bossy adult" that is sharing the lessons, instead it's one of their own – another kid! Using this video at home with your child is easy – all you have to do is talk about a couple of the lessons at a time and think about questions like:
Why is this a good thing to say?
How will it make the other person feel?
When could I say this?
Who could I say this to?
Taking the time to link real-life scenarios that come up in your child's daily life to this video is also helpful to reinforce the lessons taught here. For example, if your child tells you about having a fight with a friend at school over a difference of opinion, you can reinforce the "I disagree with you, but still like you as a person…" lesson.
Lynsey Wilson is a Communication Disorders assistant with experience treating a wide range of clients with varying ages and disorders. She also has her Early Childhood Educator certificate and specializes in working with pediatric clients. Lynsey enjoys working with a variety of age groups to keep her on her toes!